Shiro Plums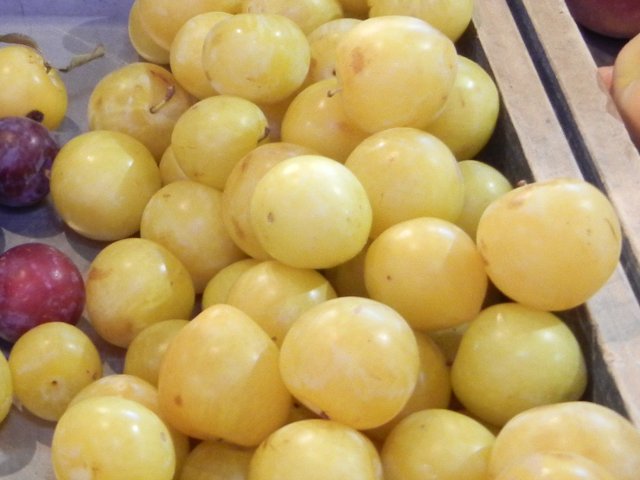 Aug 2nd, 2011, by Alex Zorach
This photo shows shiro plums for sale at the Fair Food Farmstand in the Reading Terminal Market in Philadelphia. The label said: "Tart Japanese Variety. Try a compote of them over grilled pork!"
I bought a couple of these plums and tried them. They were interesting, and more different from a typical plum than any other variety of plums I have tried so far.
I found these to be a rather impractical plum for eating. Their flesh becomes very watery when ripe, especially just under the skin. Yet the skin is tough and very sour. It is very difficult to separate the flesh from the pit, even when fully ripe. For an amusing picture, check out what happened when I tried to slice this plum to photograph the interior. In terms of eating, the aroma is very deep, vegetal, and somewhat skunky...more of something I would expect from a leafy herb than a plum. I can see these as being much better for making sauces, especially ones to go with meat (like the sign recommended) than for eating. But I am still glad I tried them; I love trying new varieties of fruit, and these were certainly exciting and different.