Biodiverse Grass, Bryn Athyn, PA
In Albums: flowers nature plants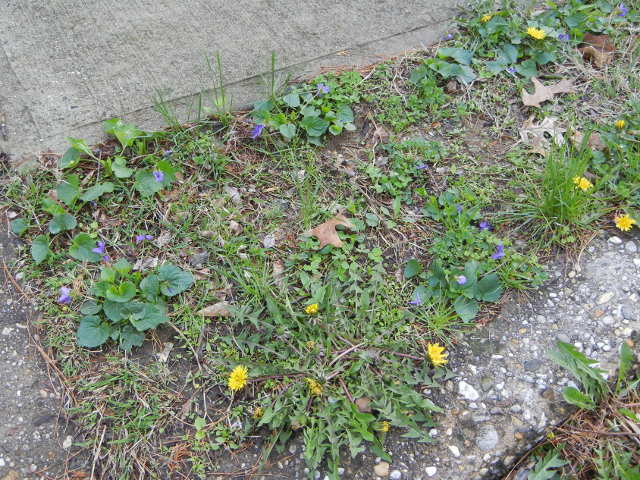 Apr 23rd, 2011, by Alex Zorach
This photo shows a segment of grass between the sidewalk and street, on Waverly Road, near Buck Road, just across from the campus of Bryn Athyn College, in Bryn Athyn, PA. I took this photo to demonstrate the biodiversity present in chemically untreated lawns, to contrast with the sterile, uniform grass on Bryn Athyn College's campus.
This photo shows violets and dandelions in bloom, as well as clover. Some people think these plants look "weedy", but I think they look beautiful. The trained eye may pick out common plantains sprouting throughout this patch of grass. I took this photograph to demonstrate the beauty inherent in biodiversity. This patch of grass does not look particularly lush or filled out, but keep in mind that this photo was taken in April, before much of the most lush growth of the year begins, and also consider that this is a relatively barren patch of soil up against the street and a driveway, where it was exposed to salt and slush from plowing, in the unusually snowy winter of 2011.
We can choose to define our aesthetic senses however we want. We can choose to embrace this natural state of a lawn as more beautiful, or we can choose to embrace the sterile, monoculture of the chemically-treated lawn in the other picture as more beautiful. The use of chemicals in damaging to the environment, including to animals and human health, and it is resource-intensive. The aesthetic of this patch, by contrast, arises naturally, requires much less maintenance, poses fewer threats to human health, is less damaging to the environment, and creates greater biodiversity. Which aesthetic do you choose?