Trumpet Vine on a Philadelphia Street in album plants
In Albums:flowers Philadelphia plants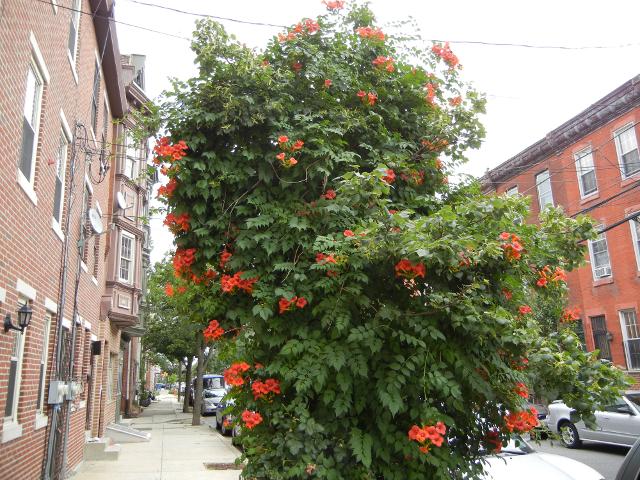 Jun 16th, 2011, by Alex Zorach
This trumpet vine or trumpet creeper, Campsis radicans, was growing on Fairmount Avenue in the Northern Liberties neighborhood of Philadelphia.
Stunningly beautiful, trumpet vine is a bit of an odd plant. It is a climber, not initially supporting itself, but it later grows relatively strong wood. Native to North America, this plant is sometimes considered a pest, even in its native range, because of its persistence and aggressive growth. It is sometimes called "cow-itch" because it can produce dermatitis (itching skin) in some people. This effect is usually much milder and much less common than poison ivy. It is well-suited for growing in cities, where it can tolerate heat, drought, poor soil, and exposed conditions, but it also thrives in lush landscapes and rich soils.
You can also view a closeup photo of this same trumpet vine plant; that page discusses the details that can help you to identify this plant, even from the foliage, when it is not in bloom.