Hibiscus Herbal Tea (Loose-Leaf) from Wegmans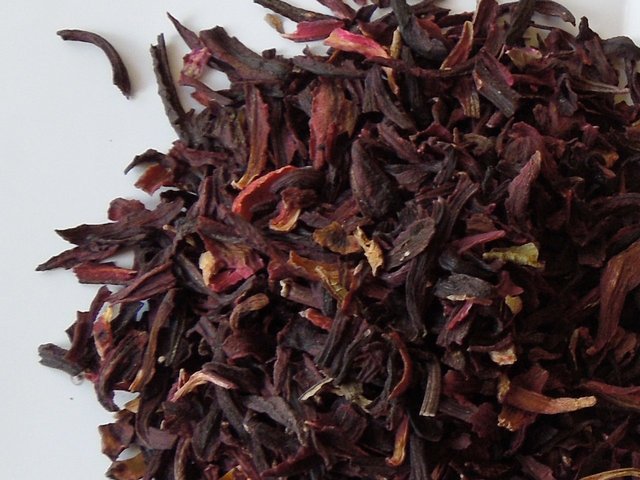 Feb 27th, 2013, by Alex Zorach
This photo shows a close-up of loose-leaf hibiscus tea from Wegmans supermarket.
Hibiscus tea is a popular herbal drink that has many names, including Jamaica (in the Caribbean). The drink is made from the sepals, not petals, of the flower, shown here in this picture. When infused in boiling water, it produces a rich purple infusion that has a strongly tangy flavor, and an aroma and flavor that I find strongly resembles cooked fruit, a little like jam made from berries.
The drink also has potent health properties, and shows considerable scientific evidence of being able to lower blood pressure. I feature this drink on my page on natural remedies for hypertension (high blood pressure).
This is a particularly attractive-looking batch of hibiscus. I find there is relatively little difference in the quality of different batches of hibiscus that I've tried, however. It all tastes pretty similar to me. The main difference I notice is in the rate at which the brew infuses. Large, whole sepals infuse slower. These are slightly broken, but much larger still than the cut and sift hibiscus tea that is usually available on the market. If the larger pieces retain greater complexity, it is lost on me--hibiscus tea just tastes really sour to me.