A Blue Wood Aster Growing in a Philadelphia Flowerbed
In Albums: flowers Philadelphia plants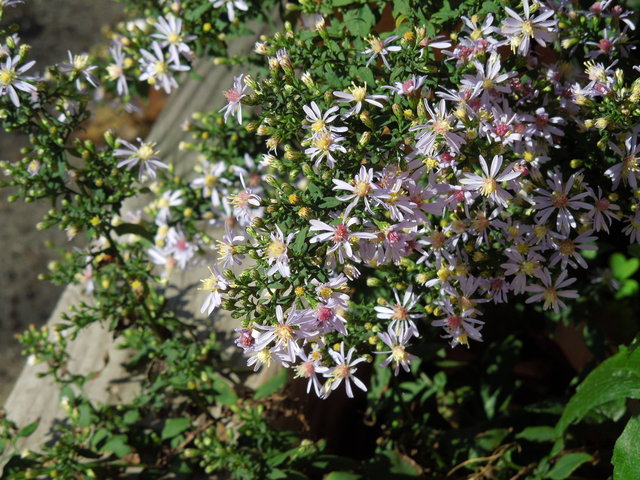 Oct 20th, 2013, by Alex Zorach
This photo shows a closeup of blue wood aster flowers growing in a flowerbed on Chester Avenue in West Philadelphia.
This plant seems to do very well in urban environments. I also think its flowers are beautiful; there are very few colorful flowers that bloom at this time of year; this plant is a prolific bloomer and the color is really striking...a sort of sky blue with a tinge of lavender. The color shade also seems to vary a lot based on conditions...ranging whiter in some cases and deeper blue in others.
I have also been surprised at how prolifically this flower blooms when placed in shady conditions. If it is given enough space that it is not shaded by other plants, it can be grown in poor soil on the north-facing side of a building with no direct sun ever, and still bloom very well.
This particular specimen was grown on a South-facing flowerbed where it got several hours of sun in the early morning and afternoon, but was planted under a large plane tree that blocked out most of the direct sun in the peak of the day. This seemed to be close to the ideal conditions for this plant, and it really thrived here.