Last updated: Sep 4th, 2013
Public Transportation: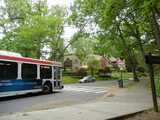 SEPTA Bus, Philadelphia
Public transportation is any form of transportation that has fixed routes and is available to the public. The term usually includes government-run bus systems, as well as city-wide and regional train systems. It is debatable whether the term applies to private bus systems such as Greyhound, airlines, or national rail systems like Amtrak, but I usually would use the term to also apply to these systems.
I am a huge advocate of public transportation. Public transportation has many benefits:
Decreases Reliance on Cars - This makes life easier for people who either cannot drive cars, or choose not to.
Alleviates Traffic Congestion - Trains or buses carry far more people than cars, relative to the space they take up on the road. This actually makes life easier for the people who do drive.
Protects the Environment - Moving large numbers of people at once is more efficient and reduces energy use and pollution.
Increases Safety - Public transportation, whether by bus or train, is much safer than car-travel.
Reduces Stress of Driving - Public transportation gives riders the ability to relax and take their mind off the road, freeing up time they can spend focusing on more important things and leaving them less stressed and worn out at the end of the day.
How you can help
There are a number of ways you can become involved in public transportation:
Become Familiar with Local Systems - Even if you don't frequently use your local transit system, knowing a little bit about how it works can help you answer questions and assist others who may want to use it.
Use It - As more people use public transportation, demand will increase and the level of funding and service will increase.
Promote It - Speak positively about public transportation. Buy and display gear and branding of your local transit agency.
Write and Talk to Key People - By making known to politicians and local business leaders that you value public transportation, you can help increase the public image of transit systems, and make people more likely to provide support.
Start a Parternship with a Transit Agency - If you hold a position of power or influence, you might benefit both a transit agency and your own organization by partnering with them. Examples of partnerships include colleges or universities providing some funding to the transit agency, in exchange for free passes for students, faculty and staff, or influence over the routes and schedules. Some businesses offer a program where one can buy monthly transit passes and have the cost deducted from your paycheck--this generates tax savings.
When transit is slower and/or more expensive than cars
The most common complaint that I hear about public transportation is that it is slower and less flexible than car travel. Door-to-door trips often take longer, and sometimes require extensive walking on top of the time travelling. Occasionally, transit can even be more costly, especially when multiple people are travelling and the cost of multiple trips is weighed against carpooling.
The main benefit though, to the individual, of public transit is one that is often overlooked: reduced stress. This benefit can be huge, in many cases offsetting the cost of time and money. Stress is one of the major factors that negatively impacts quality of life, and it impacts virtually every aspect of life. Stress causes decline in both physical and psychological health, and can place strain on relationships as well.
Time spent in a car as a driver is not only dead time, in that it cannot be used to do things like reading, writing in a journal, or using a laptop, but it also is time which takes its toll on the driver in terms of stress. Because transit alleviates this stress, it is often worth taking public transit even when it adds significant travel time and even when it is more expensive in terms of dollar costs.
Further Resources
Comments are moderated. Follow Cazort.net's comment policy for your comment to be approved.
blog comments powered by

Disqus