Water Hyacinths in the Oberlin Conservatory Pond in album plants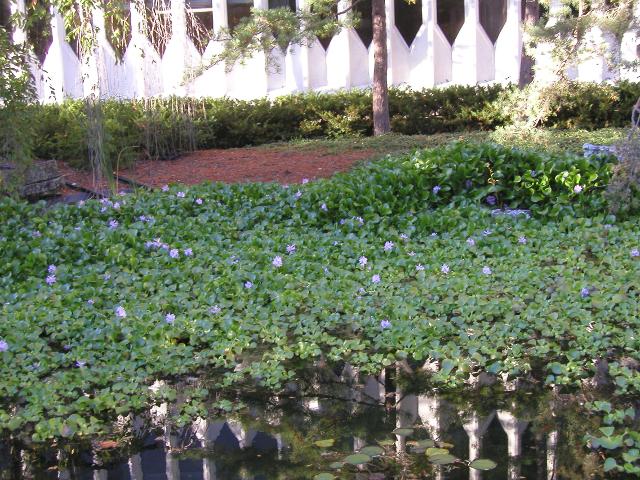 Oct 13th, 2002, by Alex Zorach
This is a photo of the pond outside the main entrance to the Oberlin Conservatory of Music. This photo is taken in fall, at which point the pond has become completely overgrown with water hyacinths. Water hyacinths, the plants taking up most of the space in the bond, and the ones with the purplish-blue blooms in this picture, are a major invasive species in many areas, including Florida. The water hyacinth is a tropical plant, however, and cannot sustain cold. Here, in the cold climate of Northeastern Ohio, the plant grows as an annual, thrives over the summer, and then dies in the winter.
This photo also shows, both in the background and the reflection in the water, the peculiar architecture of the Oberlin Conservatory, which was designed by the same architect who designed the World Trade Center, and bears a strange resemblance to the architecture of that building. Personally, I'm not a huge fan of this architecture, but I find that there is something surreal about seeing these buildings, after the September 11th terrorist attacks destroyed the World Trade Center.
Oberlin also uses water hyacinths in their living machine, a water filtration system in their new Environmental Studies building. You can learn more about this system and even monitor its performance in real-time on the website for Oberlin's Environment Studies Building.