High Rise Dorms, University of Pennsylvania, from Woodland Cemetery
In Albums: Philadelphia colleges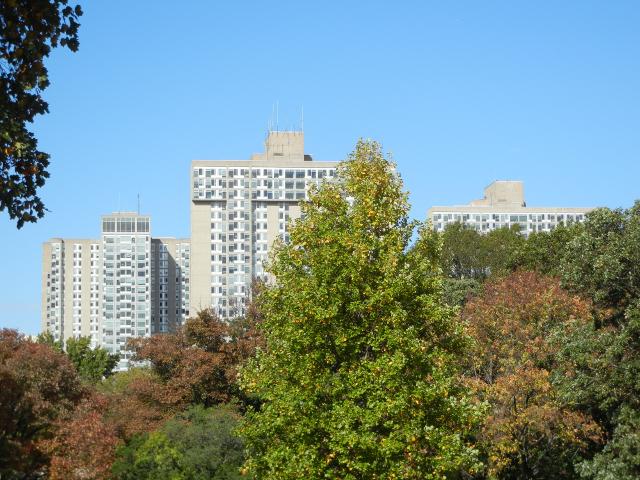 Oct 16th, 2011, by Alex Zorach
This photo shows high-rise dormitory buildings at the University of Pennsylvania, viewed from Woodlands Cemetery in West Philadelphia. This cemetery is located south of Penn's campus, and this photo is thus taken looking north.
The dorms, starting from the left, are named Rodin college house, Harrison college house, and Harnwell college house.
This photo, taken mid-October shows the beginnings of fall color. The central tree, as well as the tree on the left of this photo, is a tulip tree. Much of what looks to be "fall color" is actually defoliation due to insect infestations. These infestations are mostly in hackberry trees, a tree species that frequently is heavily eaten by insects, and that tends to thrive even if mostly defoliated by the end of the season for several years in a row. These trees attract huge numbers of migratory birds to the cemetery, and this, combined with the fact that this is one of the largest greenspaces in an otherwise urban area, makes this cemetery a hot spot for birdwatching in the fall. The trees attract migratory warblers, and the open area attracts large flocks of sparrows.