Sour Cherries
In Albums: food fruit produce cherries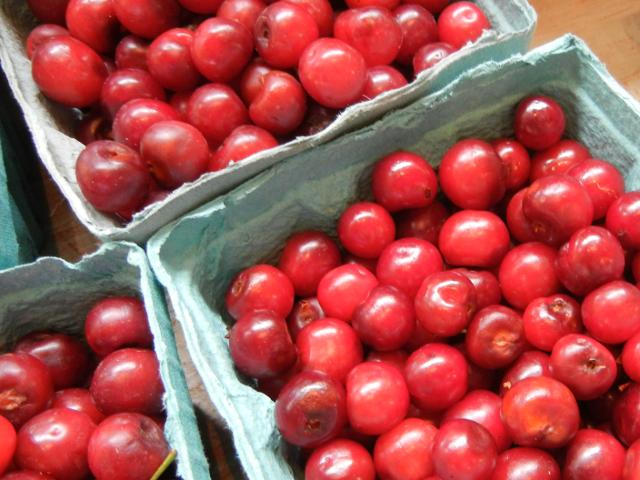 Jun 26th, 2011, by Alex Zorach
These sour cherries were for sale at the Fair Food Farmstand in the Reading Terminal Market in Philadelphia. These cherries were grown by Beechwood Orchards of Biglerville, PA, and were produced using an integrated pest management (IPM) strategy.
I love sour cherries. We had a sour cherry tree in our yard when I was growing up, and I became a fan of them, both from my mother's cherry pies, and from eating them directly off the tree. I tend to like foods in general that are not too sweet, and cherries are no exception; these are my favorite type of cherry. Most people seem to view sour cherries as being too tart for regular consumption, but I find that they actually are not that sour--much less sour than most candy and nowhere near as sour as a lemon or even a lime. Rather than "sour" I think of them as having more of a generally subdued flavor. They are perhaps a bit more sour than a typical cherry, but they are also a lot less sweet. Yet they are juicy and aromatic.
Sour cherries are generally the cherry of choice for use in baking. They make outstanding pies, and they are also, in my opinion, the best type of cherry for use in muffins. However, I always prefer to just eat them. I can eat tons and tons of them and never tire of them. Unfortunately, these cherries are rarely sold in stores. Their main disadvantage is that they are delicate, bruise easily, and do not store well. They can be found at farm stands and farmer's markets when they are in season, though.