Sunset, at the Governor Thomas Johnson Bridge, Solomons, MD
In Albums: favorites water sky Chesapeake Bay sunsets bridges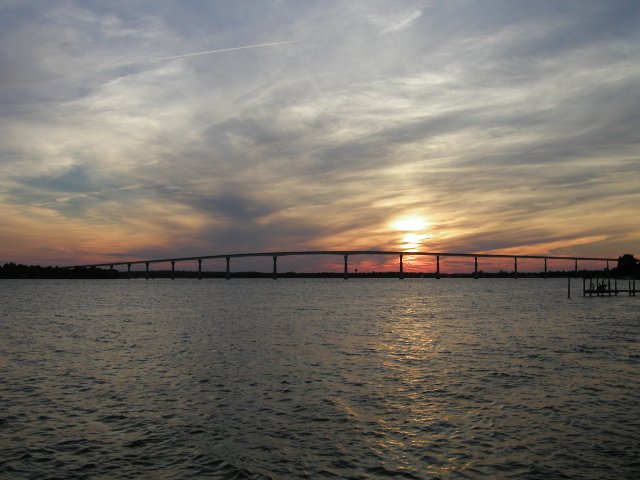 Jul 12th, 2002, by Alex Zorach
This is one of my favorite sunset pictures that I've taken. It shows the Governor Thomas Johnson Bridge, more commonly referred to as the Solomons Bridge, which crosses the mouth of the Patuxent river in Southern Maryland, where it flows into the chesapeake bay. The bridge connects the neck of land near Solomons, MD, to the lower part of Maryland which is in St. Mary's County.
This bridge is rather long, and also rather important to the area. Eliminating this bridge would make the journey to go around take about 55 miles and 80 minutes. There is a fair amount of traffic over this bridge, as there is a large Naval Air Station in Lexington Park, MD, on the southern side of this bridge.
I love this photo, mainly because of the marbled effect in the sky, contrasting with the darker, finely-rippled water, and the way the sunset reflects off the water. This photo reminds me of how beautiful and calm it was in Solomons, MD, over the summer.