SEPTA Route 13 Trolley, Chester Ave
In Albums: Philadelphia transit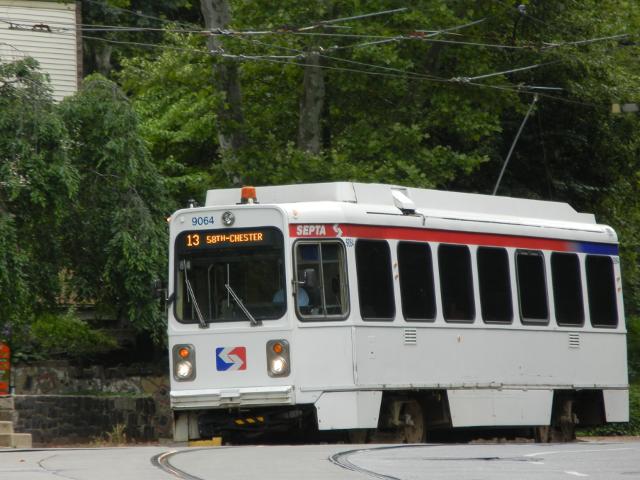 Jun 27th, 2011, by Alex Zorach
This is a photo of SEPTA's Route 13 Trolley, headed westbound, as it branches off from Woodland Avenue onto Chester avenue. This trolley then proceeds along Chester avenue in West Philadelphia, for most of its length, and eventually ends at the Yeadon loop, at Chester & Callahan, in Darby. Just east of where this photo was taken is the Subway to Surface portal. Going east, the trolleys enter the portal and become a subway, which makes local stops more often than the slightly faster Market-Frankford (blue) line. These trolleys end their subway route at 13th street, but there is a free and easy transfer to both the Market street and Broad street subways.
I love riding these trolleys. This particular route is currently being re-routed as a bus.
Most of America used to have extensive streetcar networks; living in West Philadelphia allows one to get a flavor of what life would have been like in an old suburb built around the streetcar. I personally feel that the dismantling of the streetcar network in American cities was a huge loss, motivated primarily by greed on behalf of auto manufacturers. I am hopeful that American can move back in the direction of these trolleys, as most people who ride them seem to agree that they are both practical and fun.