Rusty Blackbirds in Phillips Park, Newark, Delaware
In Albums: Newark, DE birds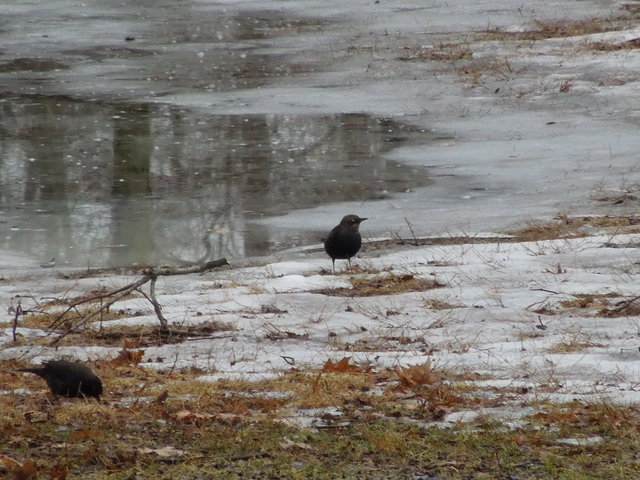 Feb 21st, 2014, by Alex Zorach
This photo shows two rusty blackbirds in Phillips Park, Newark, DE. This species of blackbird was once common, but its population has begun dropping precipitously, and it is now endangered or threatened.
The bird has a preference for wet, forested habitats. This park has some wet forests and some open wetland areas, as well as drassy areas drier than this species' ideal habitat. Today, however, the warm temperatures and heavy rain, between the snowmelt and rain, created a lot of standing water on normally dry ground. I don't think it's a coincidence that these birds showed up today.
I've surveyed this park for several years now, sometimes as often as twice a week, and I've only ever seen this species once before, a solitary individual that stopped off briefly.
More common in the park at this time of year are mixed-species blackbird flocks of Common Grackle, Red-winged blackbird, and Brown-headed cowbird. All three species breed in the park.