Pomegranate Pluots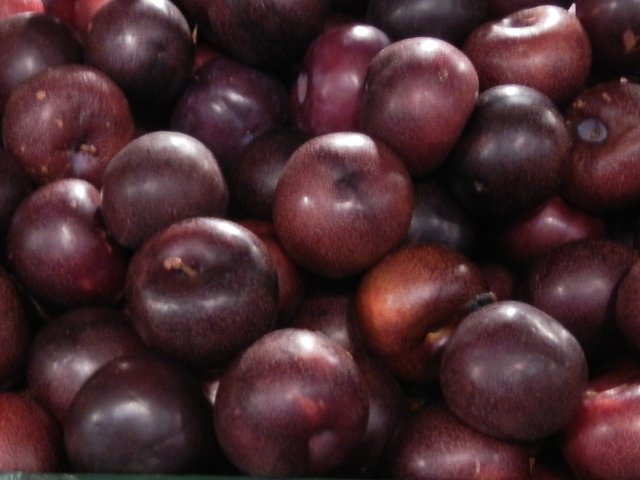 Jul 30th, 2011, by Alex Zorach
This photo shows pomegranate pluots which were for sale at Iovine's Produce Corner in the Reading Terminal Market in Philadelphia, for $1.99 a pound.
Pluots are an interesting fruit in that they are a hybrid of a plum and an apricot; the term "pluot" refers not to a general hybrid (which would be a "plumcot") but rather to a specific set of varieties of these hybrids which have been trademarked by the company Zaiger's Genetics, run by Floyd Zaiger.
The Pomegranate pluot has dark purple skin, almost blackish, and a solid purple-red interior. I bought one of these and took a picture of it sliced, so you can see. The interior tends to be slightly, but only very slightly lighter than the skin. Pomegranate pluots very closely resemble the common varieties of black plums, which are widely available. They can be distinguished from black plums with some difficulty; I find they tend to have fine spots on the skin, much more so than black plums do. Their overall flavor, aroma, and texture is plum-like, probably more like a plum than a typical apricot, and does have a resemblance to pomegranate. The texture is slightly firmer than a typical plum, which was the only resemblance to apricot that I was aware of.