Long Hot Peppers
In Albums:food peppers produce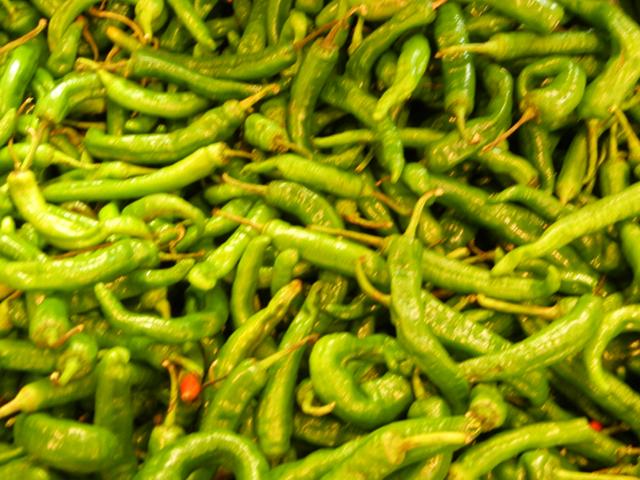 Feb 27th, 2011, by Alex Zorach
These Long hot peppers were for sale at the Newark, Delaware farmer's market. I have seen these peppers widely for sale in Asian markets, including Indian, Chinese, and Vietnamese markets. I do not know exactly what variety they are, but I have always seen them labeled as "Long hot pepper". These peppers are unripe; they ripen to an intense red-orange pepper; I have a picture of ripe and unripe long peppers for comparison.
This is without a doubt my favorite variety of pepper. A step up in heat from the Jalapeno, this is a solidly hot pepper, but it tends to be milder than the hottest peppers, a bit milder than a typical serrano, and much milder than a Thai chili or habanero.
The flavor and aroma of this particular pepper, however, is astonishingly complex. There is a strong freshness, a crisp, clean quality, and yet the pleasing, sweet aroma of a habanero is also pleasant, but I find this pepper also has significant depth to it. It is outstanding both fresh and cooked. This is my favorite pepper to use in a stir-fry. I also like including throwing it raw in soups at the end, and placing a few slices of it on the side of my meal.
The amount of heat in these peppers is highly variable; occasionally you will stumble across one which is very mild (one I actually ate raw in its entirety, and this is a relatively big pepper).