Two Long Hot Peppers, Ripe and Unripe, for Comparison in album food
In Albums:food peppers produce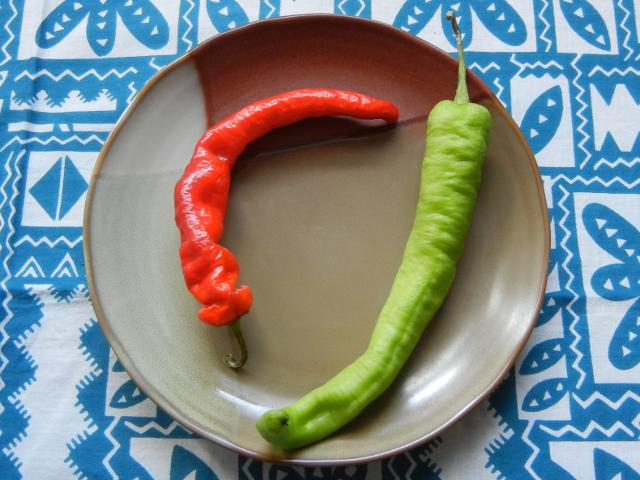 Jun 30th, 2011, by Alex Zorach
This photo shows two long hot peppers, one ripe, and one unripe. These peppers are widely used in Indian and Chinese cooking, and are commonly available at both Indian and Chinese stores.
The ripe pepper has a very different flavor from its green counterpart, but it is still recognizable as its type. The ripe long hot pepper is much sweeter in flavor, and very hot. I can understand why this pepper is primarily used in its green form, however: while green, this pepper has a pleasing fresh quality that is mostly absent in the ripe version. Also, this pepper has a very rich, warming, complex aroma, even in its green form, and this sort of complexity and depth is relatively uncommon in green chili peppers. The red version is delicious, but the green version is, in my opinon, unparalleled among peppers and is among my favorite types of chili pepper to use in a variety of foods, from salsa to soup to stews, raw or cooked.
You can also see a photo of numerous green (unripe) long hot peppers.