Green and White Pickling Cucumbers in album food
In Albums:food produce cucumbers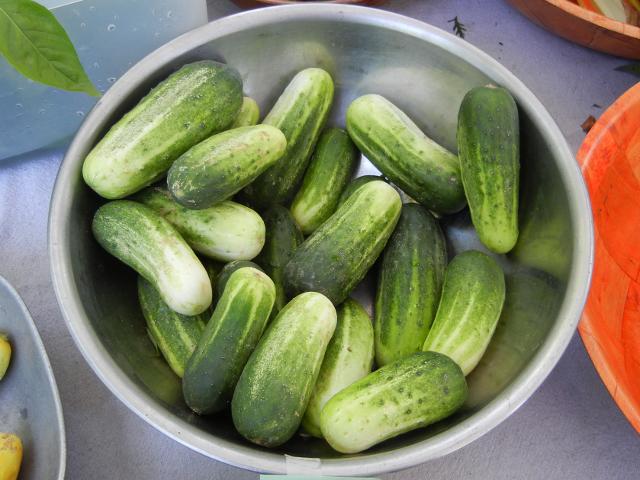 Jul 9th, 2011, by Alex Zorach
This photo shows a bowl of pickling cucumbers, for sale at Urban Girls Produce, at the Clark Park Farmer's Market in West Philadelphia. This stand is not cheap, but I find it offers top-notch produce, locally grown.
Although these cucumbers are called "pickling cucumbers", I find that they are very good for eating, and I actually prefer buying pickling cucumbers to any other sort of cucumbers. Because they are smaller, these cucumbers usually have fewer seeds than large ("normal") cucumbers, and in this respect they are more similar to the expensive hydroponic cucumbers available at most supermarkets -- which are often shipped in from far away, such as Canada or Mexico. Pickling cucumbers also tend to be firm and crunchy, in order to stay crisp after cooking. I like this crisp, firm quality.
This particular batch of cucumbers showed a more whitish color on one end; normally these cucumbers show some color gradient but are more dark green to light green. However, in terms of flavor and texture, these were like other pickling cucumbers. But I will say, I think this was a particularly fresh and tasty batch; I just bought one but it was delicious.