Dried Chamomile Flowers (Loose-leaf) from Wegmans in album tea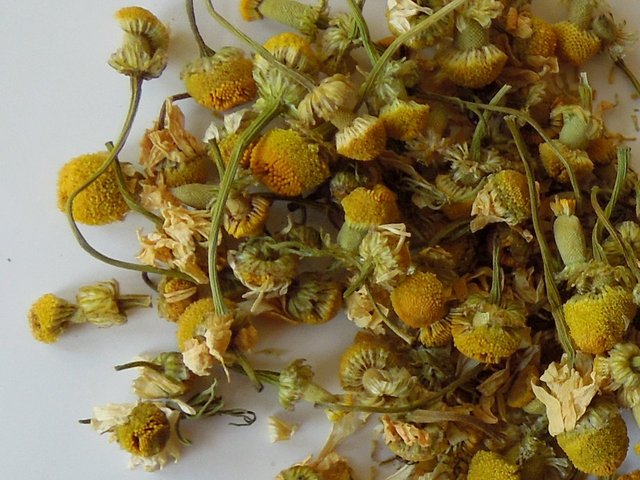 Feb 27th, 2013, by Alex Zorach
This photo shows dried chamomile flowers, an organic certified, loose-leaf herbal tea, from Wegmans supermarket. It cost $22 a pound, which I think is a very reasonable price for an organic-certified herb of this quality. This chamomile was grown in Egypt, which is a major producer of Chamomile.
Chamomile tea is an herbal tea that is best-known as a relaxing bedtime drink. There is some scientific evidence supporting the idea that chamomile is relaxing, beyond just any hot drink (as hot fluids relax the body through the influence of warmth). Chamomile is one of the herbs I featured on my page on natural remedies and treatments for anxiety. It also has medicinal uses in lowering blood sugar, and for its antimicrobial properties.
This is a particularly beautiful-looking batch of chamomile, showing large, intact whole flowerheads, usually an indicator of quality. More intact herbs like this tend to stay fresh for a longer time, and they also tend to infuse more slowly when you brew them, enabling you to have a little more control over the strength of the cup when steeping.