Ceylon Tomatoes
In Albums: food fruit produce tomatoes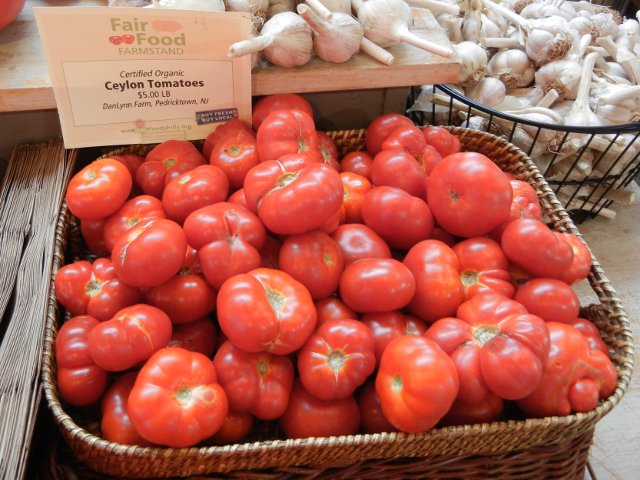 Aug 7th, 2011, by Alex Zorach
This photo shows ceylon tomatoes, for sale at the Fair Food Farmstand at the Reading Terminal Market in Philadelphia. These tomatoes, which were certified organic, were grown by the DanLynn Farm of Pedricktown, NJ, and were sold for $5.00 a pound, which is a relatively high price, but not particularly high for heirloom tomatoes that are certified organic.
Ceylon tomatoes are an heirloom variety of tomato that has a distinctive slightly flattened shape. They tend to be round, and have a highly variable amount of lumpiness, with some looking close to perfectly round, and others looking very lumpy. I have not tried this variety, but I have read it described on TomatoFest's website and the Tomato Grower's Supply Company website as rich in flavor, somewhat sweet, but also tart. Punk Rock Gardens noted that this variety tends to have a short shelf-life.
The name of this tomato grabbed my intention because I am a tea enthusiast. When I see the named Ceylon, I immediately think of Ceylon black tea, which refers to black tea grown in Sri Lanka. Ceylon is an old name for Sri Lanka. I have no idea why these tomatoes are named Ceylon tomatoes, but I am curious if there is any connection to Ceylon tea or Sri Lanka, or if it's just a random name with no relationship to tea or Sri Lanka.