Cafe Clave Storefront, West Philadelphia
In Albums: Philadelphia storefronts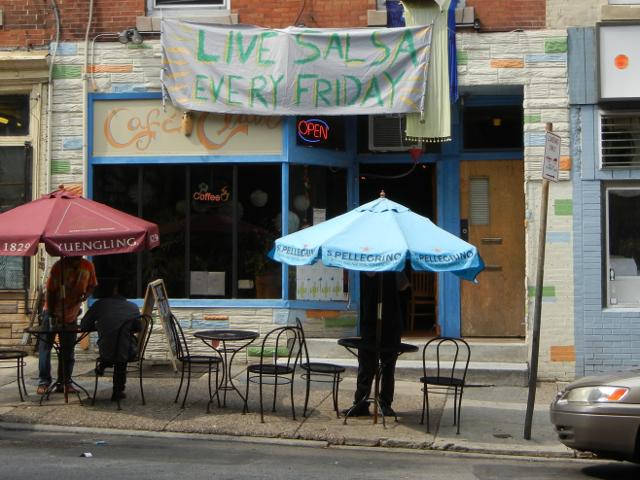 Jun 17th, 2011, by Alex Zorach
This photo shows the storefront of Cafe Clave in West Philadelphia. Cafe Clave is a quiet coffee shop which has a Cuban-music theme, with live salsa music on Fridays. Cafe Clave is one of my favorite coffee shops, although it has a particular character and I have to be in the right mindset or mood in order to want to go there. In spite of the musical theme, it usually has a quiet atmosphere, more like a library than a typical coffee shop. Even having a quiet conversation here makes me feel like I am disturbing someone.
Cafe Clave serves La Colombe Torrefaction brand coffee, and Novus Tea; although Novus Tea comes in tea bags, as a tea enthusiast, I will say that I am quite satisfied with the tea offerings here. This cafe also serves very good masala chai, blended in house, which I featured in my blog post Masala Chai at Cafe Clave.
I like this place a lot, even though it is not quite my holy grail of coffee shops.