Black Grapes and Red Grapes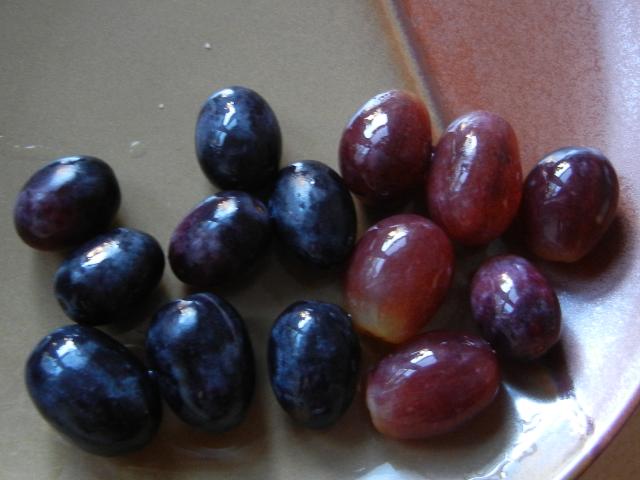 Oct 25th, 2011, by Alex Zorach
This photo shows whole black grapes and whole red grapes side-by-side. Unfortunately there is no object for a clear size comparison, although this is the same small plate in a number of my other fruit photos. Both varieties were seedless
These black grapes were delightful and rather unlike most of the grapes normally for sale in supermarkets. Their interior was light green in color. They were firm in texture, had a dry, somewhat astringent skin, and were unusually sweet, with a rich, caramelly aroma like raisins or other dried fruit. I wonder if these are a variety usually used for making raisins.
The red grapes were the normal seedless red grapes that you can buy in any supermarket, but this was a particularly fresh and high-quality batch, crisp, refreshing, and with a flavor that was both sweet and tart without too much of either.
I wrote about these grapes and used this photo in a blog post Tea-Food Pairings: Black Grapes and Assam, in which I talk about how I think the black grapes pictured here go very well with Assam black tea.