Last updated: Aug 19th, 2013
Wizzley - A Review from a Publisher
And Comparisons to Squidoo and Hubpages
Rating:





(4/5)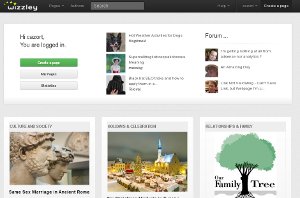 Wizzley is a relatively new self-publishing website. It is quite similar to Squidoo, and also HubPages, two sites I have reviewed in the past. It markets itself as a "Writer's Community", and I think has a slightly greater emphasis on writing than these other sites.
Here I review Wizzley, and compare it to Squidoo and Hubpages.
Overall review
Wizzley is a younger site; it is not as well-established as most of the other sites in its genre, although it does seem better-established than Zujava, the site that I think it is most similar to.
My overall impression is that Wizzley is a fun and easy site to publish on. It has a very clean interface. It's not the best site for attracting external traffic, like search traffic, but I think the site is very well-administered and I feel pretty confident that the site will be on the up-and-up because of it, as other sites like Squidoo and HubPages continue to decline because of poor management.
Wizzley also is my recommended alternative of choice, among self-publishing sites of its genre.
Exmaples of my work on Wizzley
Here are some of my most successful or high-traffic pages on the site:
You can find more on my author page.
Wizzley vs. Squidoo
Wizzley is modelled after Squidoo more closely than after Hubpages or any other self-publishing site. The categories on the site echo Squidoo's categories nearly exactly, and the setup of modules is similar, although Wizzley's modules are more minimal.
Strengths or advantages of Wizzley
Wizzley is faster and more responsive - The interface of Wizzley typically responds in 1-2 seconds to basic operations like opening a page to edit it, opening a module to edit it, or saving it. Squidoo's page often takes many times longer, which can make it much more time consuming (and sometimes frutrating) to work on pages on the site.
Wizzley's site admins are more involved and quicker at fixing problems - The site admins, including the sites' mastermind, Achim a.k.a. "Chef Keem", are very active on the site's forums; they typically respond to concerns, bug reports, and questions within hours of posts, and I've found that bugs are often fixed in a matter of days. On Squidoo, by contrast, some bugs are never fixed, and there is only rarely feedback or acknowledgement of bug reports.
Wizzley has higher standards and essentially no spam - I have never encountered a spammy page on Wizzley. On Squidoo, even after the aggressive spam crackdown, I have still encountered pages that I find overtly spammy, including ones packed with affiliate links and little else.
Wizzley does not react overzealously to spam - I have not once had a problem with something on Wizzley getting marked as spam or caught in an automated content filter.
Strengths or advantages of Squidoo
Diversity of modules - Squidoo has far more modules to choose from in construction of pages. Wizzley has exactly fifteen. While I think that Wizzley has chosen, for the most part, the best and most essential modules types to include, there are quite a few that only Squidoo offers, like the Facebook fan box, and the Blackbox, which I actually use. If you make heavy use of some of the special Squidoo-only modules, this could be a compelling reason to use this site.
Greater search authority - Although Squidoo's domain authority and total web traffic has been falling considerably over the past year, it still is farther ahead of Wizzley. Similar pages attract more search traffic on Squidoo than ones on Wizzley. It remains uncertain how this will change in the future; I will say, I'm hopeful about Wizzley eventually overtaking Squidoo on this count.
There are a few other differences that I think as neither advantages or disadvantages; Squidoo has an extensive tagging system, and Wizzley does not. I like Squidoo's tagging system, as I think it helps me to discover related pages, and I suspect it may favorably improve search traffic, but it does take a considerable time investment: on Wizzley, because there are no tags, there is no need to do the extensive work for researching and adding tags to each page; I typically spend 15-30 minutes per page doing this, so it is a major time saver.
Other differences
One other difference is the payout system. Wizzley requires you to have your own accounts, like Adsense or the Amazon affiliate program, and then apportions out a certain number of page impressions (60% I think) to your account. Squidoo has its own recordkeeping system and pays you according to their algorithm. I find Squidoo works best for people who make only a few sales on Amazon, and Wizzley works better for people making many sales. I also find Squidoo works better for people who write on topics that attract a lot of traffic but don't have a high payout, whereas Wizzley works best for people who write on topics that attract a high Adsense payout.
In summary, I think Wizzley is a better site and I recommend publishing there rather than on Squidoo, at least for the time being. Squidoo may currently perform better on some counts, but I think Squidoo is a bit of a sinking ship. It is possible that the Squidoo team will turn things around, but for now I'm predicting that the site will continue to decline.
Wizzley vs. Hubpages
As a brief disclaimer, I really dislike HubPages and even wrote an article on how I think it is a scam some time back. But to try to be a little more objective, I think HubPages is more different from Wizzley than Squidoo is.
Hubpages has a more problematic scoring system - The algorithm used to calculate HubScore and author Hubscore are hidden, and in my experience, heavily dependent on both external site traffic and frequency of updates for the page. I personally found the HubScore to encourage more competition with other users than the algorithm on Wizzley, and I also found that it requires users to have their pages to draw in quite a lot of external traffic before they get the benefit of things like dofollow links. By contrast, Wizzley just deletes spam and bans spammers, and they give great leeway to established publishers (with unconditional dofollow links and few restrictions on publishing.
I found the Wizzley community more supportive - The Wizzley community seems more like the community at Squidoo minus the spammers, than it does like the community at HubPages. I found the culture at HubPages to be a little more competitive and self-promotional. Wizzley does not seem like this at all; it seems to have a very positive, close-knit community that is quite supportive. Wizzley is the only site where I've regularly discovered other users actively promoting and sharing my articles on social media.
In summary, I feel very strongly that Wizzley is a better site than HubPages to publish on, more so than Squidoo. You can visit the site for yourself to find out.
Closing note: what would make Wizzley better?
I think the biggest weakness of Wizzley is that it still gets less traffic and visibility than similar sites like Squidoo. Time will be the true test of whether or not Wizzley surges in popularity to surpass its competitors. I believe that the site owners are on the right path and are doing a good job of keeping the site up.
You can help by checking out the site for yourself, publishing there, and/or sharing the articles, linking to them, and helping the site thrive. I do think the articles there tend to be higher-quality on average than the work published on other similar platforms, so I think you would be well served to look at material there before looking on other sites.
Comments are moderated. Follow Cazort.net's comment policy for your comment to be approved.
blog comments powered by

Disqus