Last updated: Oct 11th, 2011
Landscaping: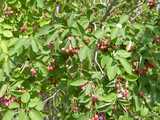 Edible Landscaping
Landscaping is the practice of managing or altering the natural environment in an outdoor area. Landscaping encompasses gardening as well as the built environment. Whereas gardening focuses on growing specific plants, landscaping focuses on a broader picture and encompasses both gardening, ecology, and construction and engineering.
My philosophy of landscaping:
I encourage people to follow certain guidelines in their practice of landscaping:
Minimize maintenance. All other things being equal, landscaping choices that require the least long-term care are preferable to those that require ongoing maintenance.
Make landscaping as functional as possible. When landscaping a park, campus, or other public or semi-public space, design the space to be actually used. Create pleasant, shaded areas for people to sit or gather. Use edible landscaping, such as fruit trees when possible.
Create ecological value through landscaping with wild areas. The best way to create ecological value is to create as much wild space in the landscape as possible. Wild areas, where plants in particular are able to reproduce naturally by seed, have the greatest ecological value. Leaving areas wild is more practical in larger areas such as very large parks or nature preserves, but small areas can be left wild in a surprising diversity of places, from a section of a private yard or garden, to highway interchanges or other odd lots of land owned by the government, individuals, or private corporations.
Shape aesthetics to practicality and ecological value, not vice versa. Aesthetics are subjective, and it is impossible to please everyone completely. Because aesthetics are subjective, we can choose to embrace an aesthetic sense that will maximize ecological value and value to humans, while minimizing cost. Rather than expending a great deal of resources for an impractical landscape that does not have functional use, I believe that it is better to define one's aesthetic sense around landscapes that are most functional and have the greatest ecological value.
Examples of applying these rules:
Treating lawns with herbicides destroys ecological value and damages the environment, and is costly in terms of money, effort, and other resources (equipment, labor), and only serves the purpose of advancing a particular subjective aesthetic. Rather than take this approach, I believe it is better to reject this aesthetic and embrace an aesthetic that a lawn that is untreated but mowed is more pleasing.
Landscape exclusively with locally-native plants, from healthy seed stock, when possible. Locally-native plants are adapted to grow in a particular area, and thus will tend to grow well, looking healthy and vibrant while minimizing maintenance and care requirements. Native plants also have the greatest ecological value, and can provide a buffer to protect against invasive, non-native pest species.
Allow small areas of ground to fill out with growth. Unless you are located in a very arid climate where plants are naturally sparse, most areas of exposed ground will naturally fill out with wild plants. Maintaining barren areas, such as exposed soil, mulch, or gravel, requires continuous effort and resource expenditure such as pulling weeds or applying herbicides. You can minimize your maintenance requirements and maximize ecological value by either leaving the area wild, or by planting a native groundcover that requires minimal care.
Landscaping Resources:
Comments are moderated. Follow Cazort.net's comment policy for your comment to be approved.
blog comments powered by

Disqus