Dragonwell Green Tea (Long Jing) from Wegmans, Loose-Leaf in album tea
In Albums: tea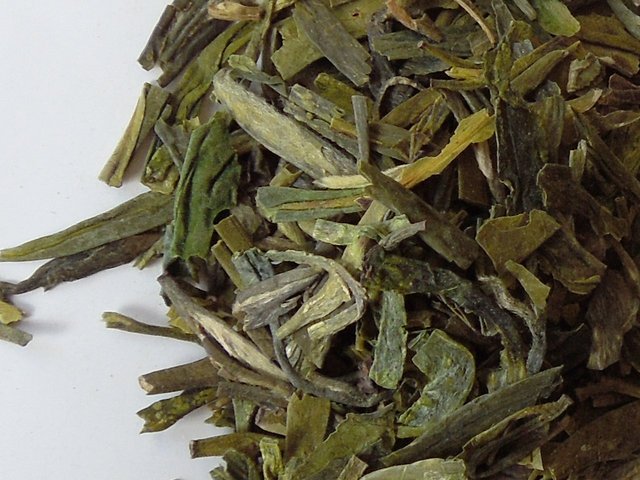 Feb 27th, 2013, by Alex Zorach
This photo shows loose-leaf dragonwell green tea, which I bought from Wegmans supermarket for about $50 a pound.
Dragon well (long jing) green tea is a particular type of green tea from Zhejiang province in China. It is known for its peculiar leaf style: the leaves are long and flat, contrasting with the twisted, curved, or rolled shapes that most Chinese green tea has.
This particular batch of dragonwell does not necessarily have the most visually-attractive leaf, and this may be a sign that it is not top quality. High-end dragonwell that I've tried has usually had more uniform-looking leaf, with each leaf similar in size, and the tip of the leaf usually having a rounded appearance. This batch has some broken pieces, is heterogeneous in appearance, and shows squared-off ends to the leaf.
I found this particular tea to be intermediate in quality. It was certainly not among the best examples of this style of tea that I've sampled, but it was perfectly drinkable and pleasant. I've had several batches of tea marketed as "dragon well" or "long jing" which I found undrinkable and threw out. You can read my full review on RateTea.