Tins of Loose Leaf Green Tea: Huangshan Maofeng and Biluochun, From Starway
In Albums: tea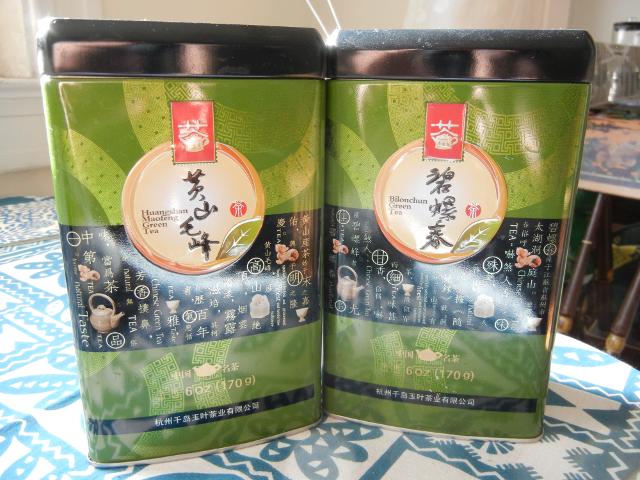 Aug 28th, 2011, by Alex Zorach
This photo shows two tins of green tea from the Starway company, an import company. Relatively recently, these two teas started appearing in Asian supermarkets. I was intrigued, honestly, by the low price and the professional-looking packaging, and I decided to make the purchase after I noticed that the box specified not only the province of origin, but a more specific region.
Both of these teas are incredibly inexpensive: the tin on the left was $2.99 and the one on the right, $3.98.
I tried these teas and they were both outstanding for such a low price, although, admittedly, not as good as high-end tea in these styles. The tea on the left is Huang shang (Yellow mountain) Mao Feng. Mao feng is a particular type of Chinese green tea. The tea on the right is Bi Luo Chun, a different style of Chinese green tea, with leaves curled into a snail shape (Bi Luo Chun means "Green Snail Spring).
On RateTea you can find my review of this huangshan mao feng green tea and my review of this bilouchun green tea. I also featured these teas in a blog post Cheap Tea: Loose-Leaf Teas Offering Outstanding Value.