Pouchong (Bao Zhong) Tea, Wegmans
In Albums: tea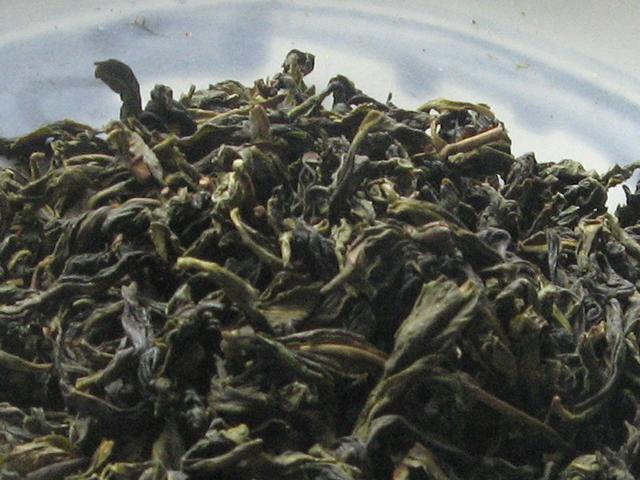 Jan 11th, 2011, by Alex Zorach
This picture shows pouchong tea, which is sometimes spelled by the more accurate Pinyin romanization bao zhong. This tea is one of the many high-quality loose-leaf teas sold by Wegmans supermarket, which has a surprisingly good tea selection.
Pouchong tea is an interesting type of tea; it is a very green oolong. Oolong tea, originating in China, is a partially-oxidized tea, meaning that the oxidation process that would turn the tea into black tea is allowed to begin, but not carry through completely. Pouchong is a very little-oxidized type of oolong, making it similar in some respects to green tea. However, it is processed more like an oolong and exhibits different flavor characteristics from green teas.
I personally love this style of tea; it can be light, delicate, and floral, and often tastes like you have added honey to it even when you do not sweeten it at all. However, some people find it a bit strange tasting as it is very different from black tea as well as darker oolongs or even most green tea; it has some vegetal and even fishy tones that are unlike the familiar aromas of most tea. I can understand that it would not be everyone's favorite.
This particular batch was labelled as Bao Zhong Special Oolong Tea. You can read my review of this bao zhong tea from Wegmans on RateTea.