Oriental Beauty Oolong Tea, Life in Teacup
In Albums: tea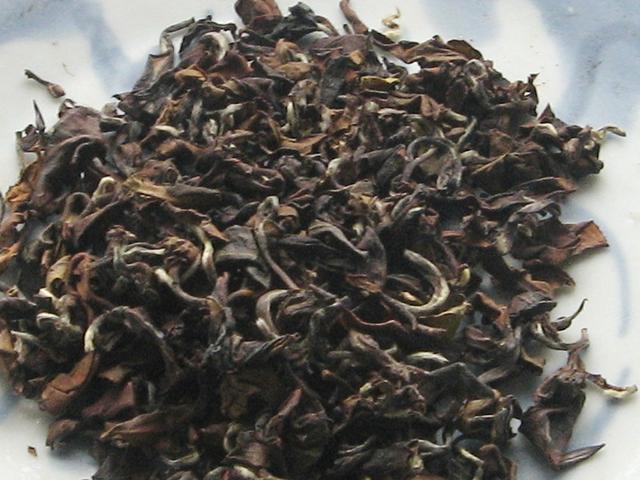 Jan 11th, 2011, by Alex Zorach
This is a photo of oriental beauty oolong tea, also called bai hao oolong, from the company Life in Teacup.
This style of oolong, oriental beauty, is actually not one of my favorites. I tend to like teas with a brisk or crisp quality, ones having considerable bitterness. Bai hao oolong tends to be very smooth, and often has little to no discernible bitterness. Its aroma in many respects resembles that of some of the lighter Darjeeling black teas; both Darjeeling and Oriental beauty teas commonly exhibit tones suggestive of muscatel grapes in the aroma.
What I fail to appreciate about this tea's flavor and aroma, I make up for in appreciating the visual beauty of the dry leaf. Isn't it beautiful? I love the subtle accents of diverse shades of silver, red, yellow, and olive green, against the background of various shades of rich brown. The gently curved leaves give this tea a unique appearance, unlike any other style of tea, oolong or otherwise.
You can read my review of this particular tea on RateTea; keep in mind when reading my review and viewing my rather low rating that I simply do not like this style of tea. I can recognize that this is a good tea even though I personally was not crazy about it.