Onitsuka Tiger (Asics) Serrano, Gray/Navy Sneaker in album shoes
In Albums: shoes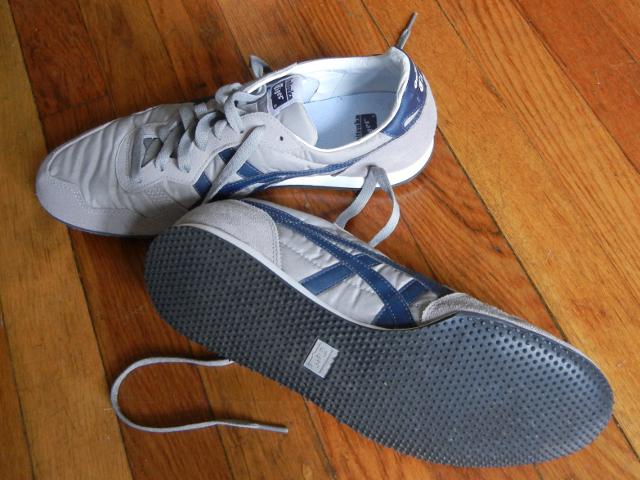 Jun 23rd, 2011, by Alex Zorach
This is a pair of Onitsuka Tiger Serrano sneakers, the Gray/Navy version. Onitsuka Tiger is a brand owned by Asics, and these shoes show the characteristic Asics patterning on the side. I wrote a detailed review of these Onitsuka Tiger Serrano Shoes, which I would encourage you to read if you are considering buying them.
This shoe is a classic retro sneaker. It is very lightweight. This picture shows the bottom sole, which is a thin, stippled rubber sole. I find that the finely stippled texture results in these shoes having relatively constant traction on different surfaces, whether hardwood floors or concrete, which is remarkable.
When I bought these shoes, I was curious if they would hold up in the long-term. My only reservation was that they were expensive, and I was skeptical about their durability because of their extraordinarily lightweight construction. Read my review to see what I think about these shoes having worn them for some time now.