Sencha, Loose-leaf Japanese Green Tea, from Maeda-En in album tea
In Albums: tea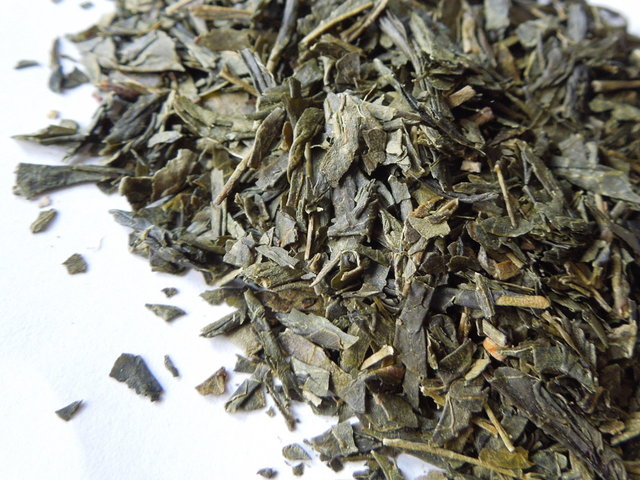 Aug 20th, 2013, by Alex Zorach
This photo shows loose-leaf sencha, a Japanese green tea, sold by Maeda-En.
Sencha is a common type of Japanese green tea, a sort of standard or mid-grade. This example is a lower-grade or lower-quality example of sencha. Note how finely broken the leaf is. Contrast this with the mostly whole, intact leaves of the Sencha overture from Adagio Teas. That tea is actually the lower-grade of Adagio's two sencha offerings, which demonstrates how this tea is really low-end among sencha.
There are actually numerous examples of bancha, a "lower grade" type of Japanese green tea, that I prefer to this one. If you look at the Bancha from Frontier Co-op, or the Bancha from the Hime brand, both of which are typical examples of this type of tea, you will even see that both of them have larger, more intact pieces of leaves than this batch.
Upon sampling this tea, I was not impressed with its flavor; it tasted a lot more like bancha but even there, it wasn't as good as most of the bancha I've sampled. You can read my full review on RateTea if you are really that interested. It's drinkable and cheap, but bland and has a slight off-aroma.