Kukicha (Japanese Twig Tea), Also Hojicha (Roasted Green Tea) from Frontier Coop in album tea
In Albums: tea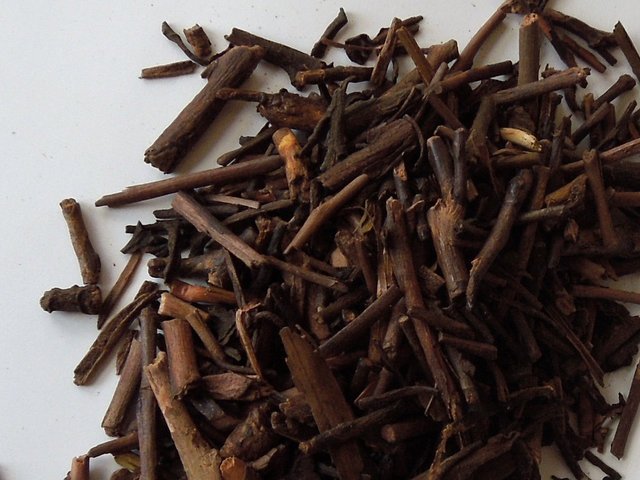 Feb 27th, 2013, by Alex Zorach
This photo shows kukicha, from Frontier Coop. This is a roasted kukicha, making it both kukicha (Japanese twig tea) and hojicha (Roasted green tea). It is common to make hojicha out of twigs.
To someone unfamiliar with this type of tea, this picture will likely look like a bunch of roasted twigs, and it is just that.
This particular tea is very low in caffeine, both because twigs contain much less tea than the leaves or leaf buds usually used to make tea, and because the roasting process destroys some of the caffeine. This combines two of my favorite types of tea into one, but I will say that I think I actually prefer the green kukicha (twig tea) or the roasted bancha to the roasted twig tea. The roasted twig tea is toasty and nutty but sometimes can seem just a tad boring, as interesting as the concept is to me.
I bought this tea at Arrowroots Natural Foods in Bryn Mawr, PA, where it was sold in bulk. I love the self-service stations for tea and bulk herbs provided by Frontier Coop.