Genmaimatcha, Loose-leaf tea (Matcha+Brown Rice Tea) from Wegmans in album tea
In Albums: tea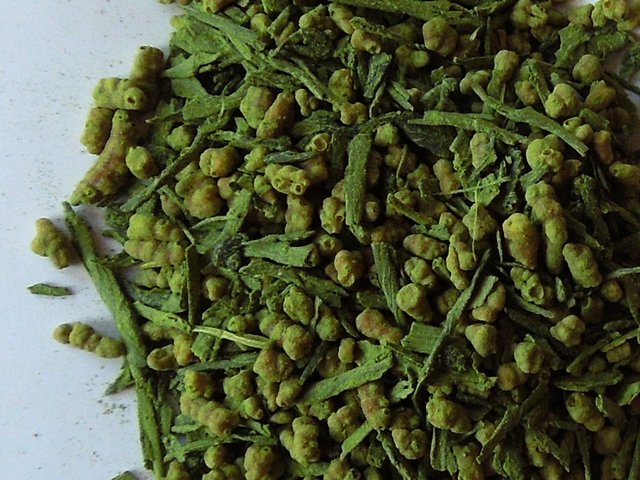 Feb 27th, 2013, by Alex Zorach
This photo shows loose-leaf "genmaimatcha", from Wegmans supermarket. This tea was produced in Japan and sold for the very low price of about $17 a pound. I reviewed this tea on RateTea.
Genmaimatcha, or matcha-infused genmaicha, is genmaicha, a blend of Japanese green tea with toasted rice, that has been coated with matcha, a powdered green tea.
I personally find coating green teas with matcha to be a bit of a gimmick. Matcha is very expensive, and I think if there were enough matcha to impart much flavor to the finished product, the price would not be so low as the price on this tea was. I also find the matcha makes brewing somewhat more complicated--I like brewing whole-leaf Japanese green teas in a mesh infuser, but matcha needs to be brewed directly in the water. The fine matcha particles can gum up some of the finer tea infusers that I prefer to use. The only suitable tea infusers that I find suitable for brewing this type of tea are those with a slightly coarser mesh, but not too coarse. I like using the Tea Nest, sold by Tea Tangent.