Fresh Shiitake Mushrooms in album food
In Albums:food produce mushrooms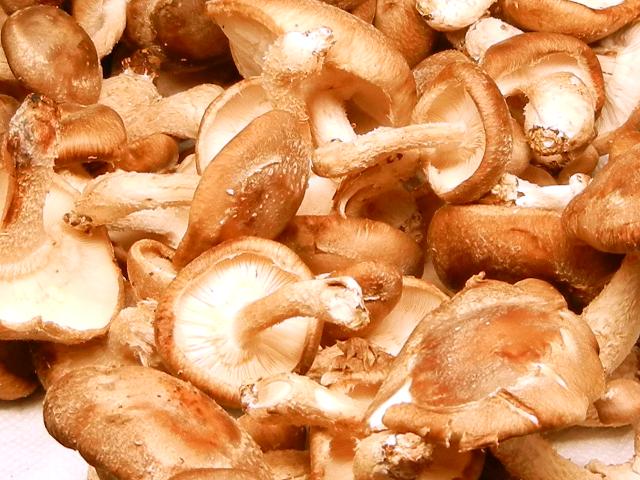 Jul 5th, 2011, by Alex Zorach
These fresh Shiitake mushrooms were for sale at Iovine's produce corner in the Reading Terminal Market in Philadelphia for $8.99 a pound. Here in Pennsylvania, very close to the "mushroom capital of the world" (the region around Kennett Square, PA), these and other normally rarer specialty mushrooms are regularly available, very fresh, for a reasonable price.
I absolutely love shiitake mushrooms, and I strongly prefer them to the regular button mushrooms that are the norm in supermarkets and restaurants alike in the United States. Shiitake mushrooms have a strong and distinctive aroma that is savory and rich, hard to describe, and unlike any other mushroom or indeed any other vegetable or type of food. If anything, it seems more similar to the aroma of a high-quality black tea than to other mushrooms. Shiitake mushrooms also lack the typical and often-disliked "mushroomy" taste prevalent in many varieties of mushrooms.
I usually buy shiitake mushrooms dried, in Asian stores, as the drying process concentrates their flavor. Although these fresh mushrooms are delightful and delicious, they are much more delicate than their dried counterparts. If you are buying shiitake mushrooms to use as a main ingredient in something, I recommend buying them fresh. If you want to add a few thin slices of them to soups or stews in order to impart their distinctive flavour, dried mushrooms might be a better choice. The dried mushrooms stay fresh a very long time so you can stock dried ones in your cupboard and then buy the fresh ones for a special occasion.