Coconut Curry Soup with Shrimp, Cilantro and Hot Pepper in album food
In Albums:food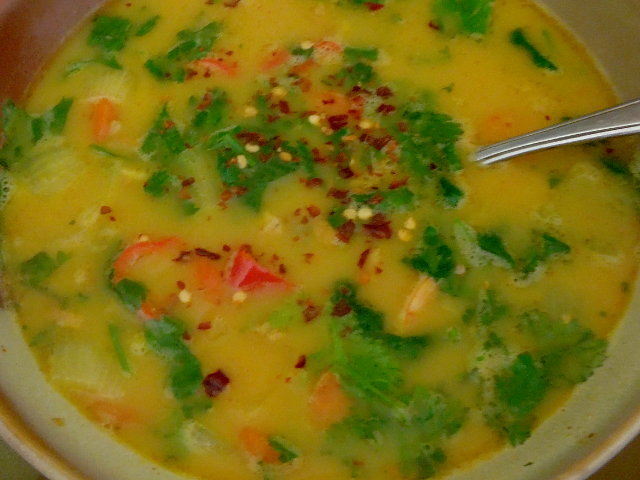 Apr 25th, 2013, by Alex Zorach
This photo shows a coconut curry soup that I made for some time. I enjoy making this sort of soup in the springtime. It is lighter in character than some of the richer, stew-like soups I like in the winter.
I cook without recipes, so the ingredient list is inexact as to quantities. You can vary the quantities to taste. I personally go heavy on the ginger, turmeric and coriander and sparse on the paprika in this soup.
Ingredients:
Coconut milk
Sliced fresh ginger root
Turmeric
Coriander
Paprika
Salt
Onions
Shrimp
Sweet red pepper
Thinly sliced carrots
Crushed red hot pepper
Fresh cilantro leaves (add at end, do not cook)
The instructions for this soup are simple. I use a water base (no stock necessary), add salt, and all the spices. It is especially important to put the thinly-sliced ginger root in at first.
Then I add onions and any other vegetables that I want to cook longer than the 3 minutes or so for the shrimp. 3 minutes before then end, I throw in the shrimp, followed by vegetables (like red pepper) that I want to cook for a short period of time.
After the shrimp is fully cooked, I turn off the heat, and then I add crushed red pepper, followed by fresh cilantro leaves.
Variants: This soup is very good in a vegetarian version. You can use tofu as a protein source, or you can add various beans. I recommend a lighter, milder-flavored bean to not clash with the soup's base, and I recommend adding only a small amount of beans--this is not primarily a bean soup! Other forms of seafood work okay with this soup, I prefer shrimp, but I also like lighter fish, and catfish. I avoid richer, darker, more meaty fish, but I think it works well with squid. I also like a version of this soup that uses lamb as the main meat and base. When doing this, I put the lamb in first and cook it for a longer period of time, and cut the carrots in larger chunks and throw them in at the beginning, instead of thin slices at the end, and also add large amounts of cumin to the spice mix. The lamb version is a richer, more wintry version.
I generally avoid adding cabbage or other cruciferous vegetables to this soup, although it works okay with some of the lighter cabbages, like bok choy, and it works okay with adding some broccoli.