Cherry Tomatoes, One Yellow, One Green in album food
In Albums:food produce tomatoes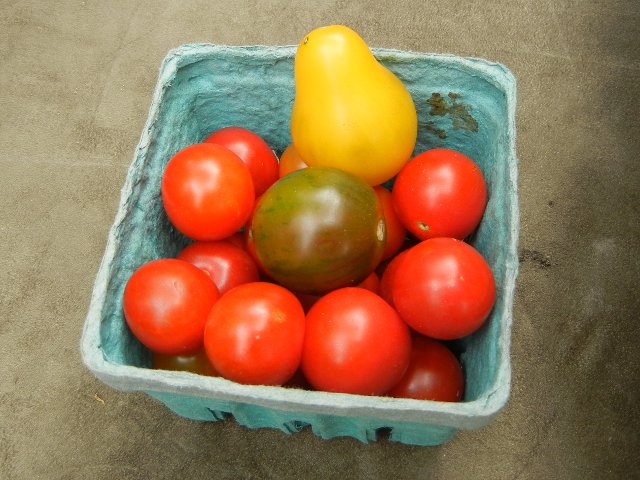 Jul 23rd, 2011, by Alex Zorach
This photo shows a container of cherry tomatos that were for sale at the Clark Park Farmer's Market in West Philadelphia. Most of these tomatos are the normal, familiar red-orange variety, but there are two oddities or outliers: the green, striped tomato, and the yellow, bell-shaped one.
The yellow bell-shaped tomato brings back pleasant memories for me. When I lived in Lakewood, Ohio (an urban suburb on the west side of Cleveland), I had a plot in a community garden a few blocks away, just across the border in Cleveland. In this plot, a tomato plant came up from seed, presumably from something grown by a previous gardener on the plot. I left it, because I assumed it would yield cherry tomatos, as most tomato varieties revert to the familiar cherry tomato variety when grown from seed.
I was pleasantly surprised when this plant began bearing fruit, as it produced yellow, bell-shaped tomatos just like the one pictured here. They were delicious! I have fallen in love with this variety, which I infrequently see for sale. Its flavor is very pleasing and gentle: less sweet than normal cherry tomatos, but also less acidic. I recommend buying (or growing) this variety of tomato if you have the opportunity. You might even try throwing out some yellow tomato seeds in your garden and seeing what comes up.