Last updated: Feb 22nd, 2012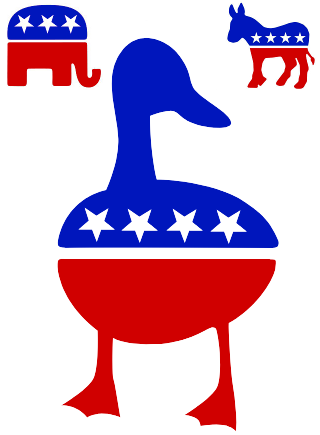 The Cazort.net duck political logo, with the Republican party's Elephant logo and the Democratic party's Donkey logo for contrast.
The Cazort.net Duck
Official Political Logo
Cazort.net has an official political logo - a duck, in the style of the familiar Democratic (donkey) and Republican (elephant) party logos from American politics. The Democrat's donkey logo faces due left, and the Republican's elephant logo faces due right, symbolizing the left and right of American politics.
In the spirit of these logos, the symbolism of the duck logo is as follows:
The duck faces the viewer, symbolizing Cazort.net's emphasis on directness, simplicity, transparency, and respect in politics.
The duck's body is angled slightly to the left, but its head is turned to the right, symbolizing the fact that Cazort.net is open to and draws from both liberal and conservative influences, seeking to embody the best of both viewpoints.
Ducks are agreeable, sociable creatures, and are not generally associated with conflict or confrontation. The duck thus reflects Cazort.net's emphasis on respect, positivity, and consensus-building.
Ducks are versatile creatures, able to walk, swim, and fly, and they inhabit a broad range of wild habitats as well as urban areas, reflecting Cazort.net's broad focus and universal appeal.
If you like the symbolism of this duck, please visit our official political platform, and consider lending us your support through following and liking us on facebook and twitter, and through sharing and linking to pages on our site.
This logo was designed by Sylvia Odhner.
Comments are moderated. Follow Cazort.net's comment policy for your comment to be approved.
blog comments powered by

Disqus