Last updated: Mar 26th, 2014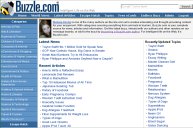 Screenshot, Nov. 2010.
Buzzle.com - A Review
Rating:





(2/5)
Buzzle is a formerly popular article directory, used primarily for online article marketing and self-publishing. In this review, I consider Buzzle's performance, features, and professionalism, compared especially to EzineArticles, which used to be my article directory of choice. I also provide some concrete suggestions for how Buzzle could be easily improved.
A lot of the discussion here is a moot point; Buzzle changed their policies and no longer allows links in article footers, making them effectively useless for article marketing (and removing the only form of compensation authors were ever given--they've never been paid so now there is no reason to publish on this site).
Buzzle, together with EzineArticles and many other similar sites, was hit hard by the Google panda update. Whereas Buzzle at one time was one of the two most valuable article marketing sites for driving traffic to a website, it became almost useless in this regard following panda. After this, Buzzle changed their policies, effective barring its use for article marketing.
Before the panda update, Buzzle performed about as well as EzineArticles in terms of driving traffic to a website. However, my experience with the site was that the administrators were highly unprofessional in how they treated me as an author. Buzzle also lagged behind in terms of features and interface. The unprofessional treatment, in my case, was extreme enough that I ended up deleting all my articles from Buzzle, even before Buzzle had changed their policies, barring article marketing entirely. Once the panda update rolled out, and Buzzle's traffic fell off, I saw no reason to keep my material up on a website where the editors consistently treated me rudely.
Buzzle's Performance
Buzzle has a cute logo of a bee, and a catchy slogan: "Intelligent life on the web.". But I found it fell short of its image.
I used Buzzle primarily as a way of letting people know about a tea rating and review website I designed, RateTea. I have found that Buzzle's performance in terms of driving traffic to my websites lagged behind that of EzineArticles, but was significantly higher than that of other article directories. The click-through rate has hovered around 2%, in contrast to EzineArticles where it has always averaged over 5%.
The number of views per article on Buzzle has been fairly high, for a typical article, slightly higher than EzineArticles. This fact, combined with the lower click-through rate, makes me wonder if Buzzle is including duplicate views or views from automated web crawlers in their statistics. I also noticed that traffic from Buzzle was a bit slow to roll in, in contrast to EzineArticles, which provided an immediate boost of traffic shortly after publishing new articles.
What would make it four or five stars?
Buzzle has a number of serious deficiencies that place it behind EzineArticles, which I gave 4 stars in my review.
Make the font size bigger - This may seem like a small detail, but, among websites that display text articles, there seems to be a general consensus in support of a larger font size; in contrast, Buzzle's text is tiny and hard to read. I suspect that the small font size may play a role in the low click-through rate. Alexa shows Buzzle's bounce rate hovering stably around 65% [Source], whereas EzineArticles is similarly stable just under 50% [Source], which seems to confirm that many viewers are leaving Buzzle because of a poor first impression.
Improve the author tools and interface for article submission - Buzzle's tools for authors are extremely primitive: they basically just allow you to submit articles in a one-time form. Buzzle gives the authors the (in my opinion, unprofessional) warning: "Before submitting the article, make sure you have a copy of the same, with the final formatting. The copy will be useful if there is title conflict, in case your session has expired or if any unexpected error comes up. If you encounter any problems after submitting press browser Back button and submit again." A professional website would allow saving of drafts, previewing of an article before submitting it (Buzzle allows a "preview" after submission). Other very elementary improvements that would facilitate the submission process include a word count and character count calculated using javascript. I can say with confidence that with my experience programming interactive websites, I could even design better tools.
Display more statistics and ensure their accuracy - As I discussed above, I'm skeptical of the accuracy of the statistics, due to the low click-through rate compared to similar articles on other sites. The statistics are also extremely minimal: EzineArticles puts them to shame, identifying (even with their free package) search keywords that readers have used to locate your articles in search engines, and allowing graphs of how these keywords change over time.
Better communication with authors - On EzineArticles, if you submit an article that fails to meet editorial guidelines, and it is rejected, you are informed by email. On Buzzle, on the other hand, it just mysteriously disappears, with no notification email, no clue about what about the article failed to meet the guidelines, and no opportunity for you to correct the issue. This probably won't be a big problem for most users, as the standards on Buzzle are pretty lax, but it struck me as highly unprofessional. Even a brief email notification that an article was rejected would be preferable to having the article just disappear.
Stronger editorial oversight - When it comes to its editorial policies, Buzzle is intermediate among article directories, with weaker oversight than EzineArticles but stronger oversight than GoArticles and a large number of other, less legitimate sites.
More community, interactivity, and social media presence - EzineArticles has a frequently updated blog with active discussion from the site's authors, and the company is also active on social media such as twitter; Buzzle is just a website, and has no blog or community features, and does not have any "public face" on other websites; this omission not only represents a missed opportunity to improve authors' experiences, but I think also communicates that Buzzle is less internet-savvy than its competition.
My final recommendation:
Overall, Buzzle's performance was good, but not excellent. In terms of driving traffic, it clearly exceeded GoArticles and other less reputable article directories. Submission of articles was cumbersome and time-consuming, however, as the primitive author tools and interface required me to write the article on my own computer before copying and pasting it into the forms on Buzzle.com.
My professional opinion is that Buzzle is only worth publishing on if you've already published extensively on EzineArticles and want to diversify the sites on which you are publishing. But even then, Buzzle may be a waste of time: serious authors would be better served by moving beyond article directories and starting to write for websites with greater visibility and a stronger reputation for editorial integrity.
Comments are moderated. Follow Cazort.net's comment policy for your comment to be approved.
blog comments powered by

Disqus