Yellow Bellied Kingbird Sp. (Tropical or Couch's), Grays Ferry Crescent Trail, Philadelphia
In Albums: birds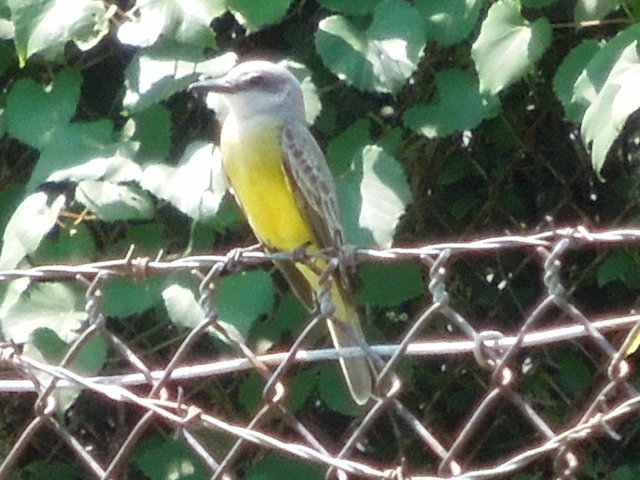 Jun 20th, 2013, by Alex Zorach
Update: George Armistead has identified this bird as a Tropical Kingbird, based on locating it down and hearing its vocalizations.
Presumably a Tropical Kingbird or Couch's Kingbird.
I saw this Kingbird on the Grays Ferry Crescent Trail in Philadelphia, at 39.942741,-75.199678, perched on this barbed-wire fence, at 11:23AM. The bird allowed close enough approach to take this photo, and I watched it extensively. It stayed for about 5 minutes, and then flew off across the Schuylkill river.
Currently looking for ID help. I initially narrowed it down to Western, Tropical, or Couch's Kingbirds, none of which is probable here this time of year. Western Kingbird seemed more probable than the other two, but when it shows up in this area, it is usually fall to early winter. Closest June record was 1998 at Cape May.
This bird look more like a Couch's or Tropical Kingbird to me. The bill looks heavy, and there is not much pale gray on the upper chest--the yellow extends farther up and shows a darker, more greenish color, characteristic of Couch's and Tropical. The yellow color is very bright and vibrant--Western usually looks paler. It also looks like a big, bulky bird.
My guess is Tropical but I don't feel very certain about this guess; I haven't ever seen either species before, although I am familiar with Western Kingbird from my time on the west coast.
Behavior notes:
This bird was flycatching from the barbed wire fence, usually returning to about the same space but it also perched briefly in another spot. When sitting, its body remained mostly still but it frequently turned its head, moving from one position to another, looking one way or the other, and moving its head at different angles. The postures of the bird in my photos were typical of the bird's postures when I watched it. It spent very little time with its back to me, and I did not capture any photos like this, but I did get to view its back.
Its flight looked quicker and more fluid than that of an Eastern Kingbird...less hovering and more flying in smooth arcs.
After sitting on the wire and flycatching for a few minutes, the bird flew up and flew north, up over the trees and across the Schuylkill river, and I lost sight of it.
Unfortunately, the bird was silent.
ID Resources:
I've been studying numerous resources, so I'm looking for expert input that goes beyond what I can find in the Sibley and Crossley guides, as well as these resources: