Red-Headed Woodpecker, University of Delaware
In Albums: birds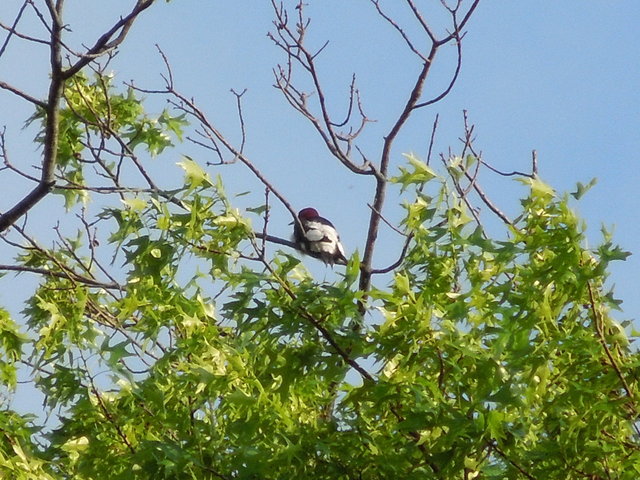 May 16th, 2014, by Alex Zorach
This photo shows a red-headed woodpecker that I saw on the University of Delaware campus.
Newark, DE, where the university is located, is within the range of this bird, but the bird is exceedingly rare within this part of its range. I birded actively in Delaware for the four years that I lived in Newark, and have continued to bird there rather frequently since moving to the Philadelphia area, and this was the first time I ever saw this species this far north in DE. Previously, I had only observed them in the cypress swamp in far southern DE.
One reason I actually saw this bird was that I had decided to undertake a challenge put forth by eBird, to report 100 checklists for the month of May. 100 is a lot of checklists; birding every day, it amounts to over 3 a day. eBird recommended that you could more easily meet this challenge by making briefer birding trips at times or places where you wouldn't normally go birding.
I observed this bird on one of those checklists. I had parked my car and was going to go to UD Swing, my favorite Friday night activity, swing dancing on the UD campus, but I had a few extra minutes so I decided to do some birding. Right at the end of my birding trip, this bird flew overhead. I first thought--oh, a woodpecker, but as soon as I focused my binoculars on it I realized it was a red-headed woodpecker.
I then tracked the bird down and found that it was perched and preening--an excellent thing because this would probably mean it would stay put for an extended period of time. Excited, I ran back to my car to grab my camera. The bird was still here, and I took this picture and a bunch of others. It's just a pocket camera and this photo was taken with the max zoom...the bird was atop a tall oak.
You can see the full checklist on eBird.