Papaya Tree as a Houseplant, Oberlin Science Library: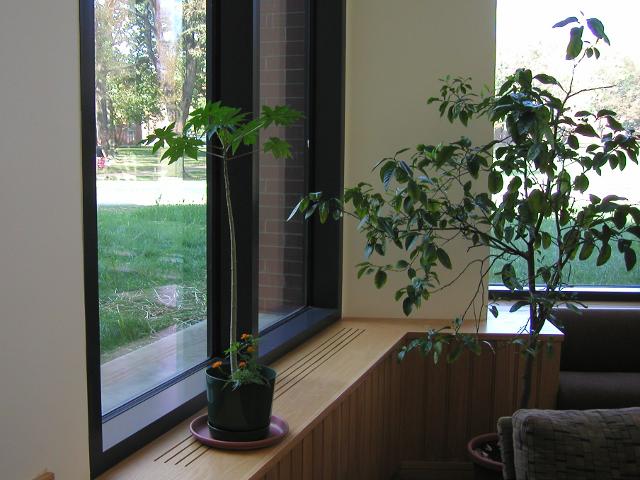 | | |
| --- | --- |
| Sep 17th, 2002, by Alex Zorach | |
This photo shows a papaya tree grown as a houseplant, in the Oberlin science library. The same plant also has a small, orange marigold plant in it, which is vigorously blooming. To the right is a ficus tree, Ficus benjamina, which is a common houseplant that is relatively easy to care for, and among the largest of the common houseplants with a tree-like habit. The papaya, by contrast, tends to grow with a single stalk and leaves at the top, and is not a proper tree as it does not form any wood (and tends not to branch).
I grew the papaya tree in my dorm room for a full year, during my senior year at Oberlin college. When I graduated in May of 2002, I gave the plant to the science library, and the staff at the library were kind enough to care for the plant, along with a sweet potato houseplant that I also gave them. This papaya plant was sprouted from the seed of a fruit by someone in Maine. I obtained this plant when it was only a few inches tall, and watched it grow to the height pictured in this photo, but I have not seen the plant since then.
The marigold was a bit of a surprise. I had gathered marigold seeds from outdoors, by collecting seedheads from marigold flowers that had finished blooming. I scattered the seeds in my pots, and one of them sprouted. When I gave the papaya tree to the library, the marigold plant was small, but vigorous. It was interesting to see it blooming only a few months later.
Papayas obviously can be grown indoors, even in a sun-deficient climate like Northeast ohio, as this photo shows, but they do not thrive, even when placed in a large window like the one here. This tree kept dropping leaves as it would grow new leaves, even when I was very careful about water. I think it did not have adequate light. The marigold, by contrast, was incredibly easy to grow, it grew with very little effort. Try scattering marigold seeds in the pots of your houseplants and seeing what happens...you might just get a pleasant surprise, like in this photo!